Feel the need to dance to Oompah music? You're in luck with several Oktoberfest events happening this weekend and through the next several weekends in the Austin area.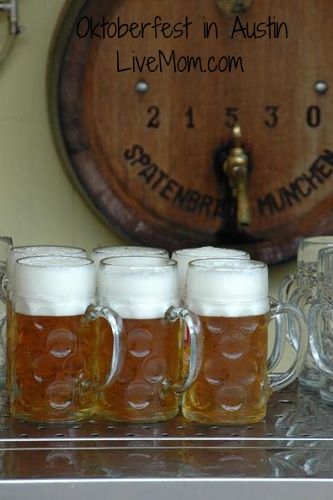 Vert's Oktoberfest- Thursday, October 17 from 5:00- 8:00 p.m. Celebrate Oktoberfest with Germany's most popular street food & local German-inspired craft beer. Featuring Live Oak's seasonal Oaktoberfest and classic HefeWeizen (free Live Oak pint glass with purchase of a beer), traditional Oktoberfest music and beer stein races for a chance to win a free döner kebap! Beer steins will be filled with water so people of all ages can participate in this classic Oktoberfest game! Vert's, 1500 S. Lamar Blvd.
German-Texan Heritage Society- October 19, 2013 from 11 a.m.- 7 p.m. Fun for kids and adults! For the little ones, there will be face painting, a magician, games and more. For the adults, authentic German beer, food, and live music. Tickets: $10, kids 12 and under are free. There is a $3 off coupon here. German-Texan Heritage Society, 507 East 10th Street.
NXNW Oktoberfest- Saturday, October 19 from 11;00 a.m. to midnight and Sunday, October 20 from 11 a.m. to7:00 p.m. Oktoberfest at North by Northwest is an Austin tradition that is 12 years old! Every year we celebrate Oktoberfest with special German brews, classic German food, German music and plenty of fun for the whole family. Festivities will include: Delicious German Food with Head Chef George Powell, NXNW Beer (Of course!), Artisan Booths, Oompah Music, Pinty the Bear, Bounce House for the Kids, Face Painting, Nate the Great Balloon Artist, Bratwurst Eating Contest, Dog Costume Contest. Admission is only $2 and benefits: Breast Cancer Resource Center of Texas, Therapy Pet Pals of Texas, Central TX Dachsund Rescue. NXNW, 10010 Cap. Tx. Hwy.
Wurstfest- Sprechen Sie Fun? Oh yeah! November 1-10, 2013, Wurstfest happens in New Braunfels near the Comal River. There will be plenty of good food, music, dancing, exciting carnival rides and games, German, Texan and domestic beer, special events and the finest in Alpine and Bavarian Style Entertainment. It all happens at Wurstfest! The best ten days in sausage history. Tickets: $8 if purchased before 10/30, $10 if purchased on or after 11/1.

Walburg Restaurant- Fridays and Saturdays through November 9th, head out to Walburg, a little town just outside of Georgetown, for an Oktoberfest celebration that the entire family will enjoy. With live music (starting at about 7:30 p.m.), and arcade, food, and a nice dance floor, it is certain to be a fun night. Free admission, food and drinks cost. The biergarten opens at 6:00 p.m. Walburg, Texas.
Prost! And remember…. designate a driver.
[facebook]
[retweet]